About Mary Murphy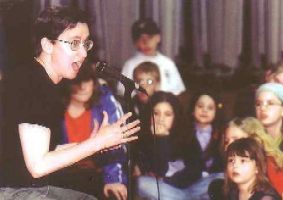 Mary Murphy is a writer and teller of stories.
She has performed at the National Storytelling Festival, the Hawaii Storytelling Festival, the Clever Gretchen Folklore Conference, the Philadelphia Fringe Festival, Companions on the Sacred Journey, the Rockland County Storytelling Fesitval, the Dance Flurry in Saratoga Springs, the Riverway Storytelling Festival, the Clearwater Festival, and the Three Apples Storytelling Festival.
Her stories have been published in Give a Listen: Stories of Storytelling in School, edited by Ann M. Trousdale, Sue A. Woestehoff, and Marni Schwartz (NCTE, 1994), The Solstice Evergreen: The History, Folklore, and Origins of the Christmas Tree, 2nd ed., edited by Sheryl Ann Karas (Aslan, 1998), Women Celebrate: The Gift in Every Moment, compiled and edited by Elizabeth Welles (Peace Communications, 2004), The Artful Mind, and Sacred Journey. She has a CD entitled murphy stew.
Mary Murphy
E-mail: mary.leo@gmail.com

Phone: 518-462-1796